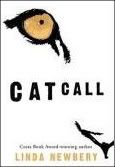 Josh's family is used to changes - but now they are hurtling into even more. Although Josh has always had an affinity with animals, it's his younger brother Jamie who falls under the wild cat spell. 'Leo' seems to have taken over Jamie's life. Soon it becomes impossible for the family to cope with his frightening, unpredictable behaviour. Only Josh understands, but is he brave enough to break through Jamie's unhappy mask, and save them all?
*
Josh and Jamie have been having a rough time. Their parents are divorced, and now their Dad's girlfriend and her son are moving in with him, while their Mum and her new partner have just had a baby girl. Catcall is essentially the story of how these events affect the two of them.
Josh, the narrator, is a bit of a geek. He likes facts and is a little obsessed with cats. He writes about them in his 'Book of Cats' he created and has spent hours on. He turns to it whenever he feels stressed and needs an escape. He worries that his dad's stepson and his mum's new baby will replace him, and that neither of them will have any time left for him. Jamie presumably feels the same, although he handles it slightly differently. One day at school he stops talking, and then begins to behave in frightening and unpredictable ways. At first he will only talk while wearing a cat mask, and becomes scared of something called 'Leo'.
I felt for Josh. He was struggling for much of this book, but for various reasons never got the attention he needed from his parents, all of whom were distracted by Jamie's much more dramatic problems. There was a deep bond between the two brothers, and Josh clearly cared deeply about Jamie. The parents (all four of them!) were, I thought, well written - trying their best, and sometimes failing, but mostly doing as well as they could.
I think this would be a good book for young teens going through similar issues. Josh's emotions felt real, to me, from his sense of injustice that Jamie was getting all the attention, to his horror of the brief flashes of rage he felt towards his baby sister. The writing was good, and showed understanding of how a boy Josh's age might feel.
However, it didn't stand out for me. I didn't like the ending, and there was nothing about it to make me go 'wow'. So, in conclusion, good but not great.